Zabs Original Sauce
Zab's Original is our twist on a classic vinegar based hot sauce. We captured the essence of the Datil Pepper - naturally Sweet Heat & signature Slow Burn - combining hand picked peppers with organic carrots, onions, garlic, and a touch of spices.
Recommend a dab (or a few!) on simple foods like veggies, meats, salads (instead of or along side dressing), an omelette/scramble, rice bowls, or tacos. We also recommend using Zab's Original as a "simmer sauce", adding a little back end heat when cooked into pasta sauces, soups, or anything that you want to give a bit of lingering burn. And finally, swirl a few dabs into your favorite dressing or aioli for an added kick.
SHOP NOW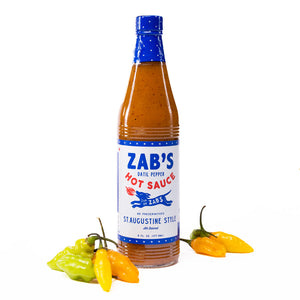 St Augustine Style
Zab's tribute to how traditional Datil Pepper sauces are made where the peppers are grown - St. Augustine, Florida. Sweeter Heat and fuller flavor, with the signature Datil Pepper Slow Burn.
Recommend a dab (or a few!) on breakfast burritos, avocado toast, sandwiches, eggs, hash browns, or a slice of pizza. We also recommend using Zab's St. Augustine Style as a marinade for meats, a glaze for wings, a "simmer sauce" for veggies (try it out with sautéed onions!) or mixed into your favorite aioli to give it a slow burning upgrade.
SHOP NOW